What we do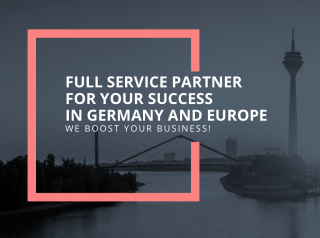 The market entry in Germany or other countries in Europe frequently presents great challenges especially for companies from China, Korea or Japan. Just a few of the aspects to be taken into account are as follows: Numerous laws, provisions and industry-specific special regulations; tax law requirements; different management systems; direct and indirect distribution channels, and country-specific business practices or conventions. Additionally, cultural characteristics, social manners, mentalities and, last but not least, language barriers prove to be obstacles which cannot be overcome without any support. The result: Foreign companies will often fail in their attempts to establish themselves commercially in Germany or in Europe.
What we offer
Developing concepts for a successful market entry on the European continent
Full Service-Partner and One Stop Solution-Provider
Active support during market entry
Comprehensive advice on all administrative and corporate law issues
Continuous support as a long-term partner on request
Our service portfolio
In a first step, we analyze your portfolio and then decide which channels make sense for you. Since we are experts in all relevant distribution and marketing channels, such as field sales, online marketing, email marketing, telemarketing and mailings, we will individually coordinate these channels and use them in optimum combination. But that's not all: Upon request, we distribute for you your products and services via the selected channels. In other words: We are using our competences in order to sell actively and successfully for you!
Over and above that, we will accept – as needed – all administrative and organizational functions or assignments.
One Stop-Solution for sales, marketing, PR and administration
Your benefits
Reliable and competent partner, who professionally accompanies you in all aspects of your expansion project.
First-class network in one of Germany's economically strongest regions with access to companies, top decision-makers and local authorities
Proven infrastructure for direct market access
Minimum scatter losses in target group selection and addressing
We will not only tell you how you can successfully position yourself on the German or European market – we also do it!
We are not only your reliable and loyal partner but also actively support you in all implementation stages – even after your market entry.
Our partners
A network of high qualified experts